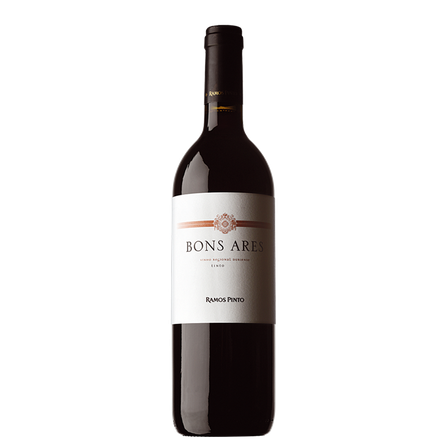 BONS ARES RED 2015
Quinta dos Bons Ares is located in the region of Douro Superior, in the Vila Nova de Foz Côa municipality. This estate (Quinta) has a very special terroir, where the granitic soil and its
altitude give the grapes an acidity and aromatic potential, unusual in this region. Beyond these characteristics, another particularity of this wine is its blend: between the New and Old World,
between traditional grape varieties (Touriga Nacional and Franca) and international ones, such as Cabernet Sauvignon, between lagares and stainless steel machines. This wine from Casa Ramos Pinto is a true example of innovative tradition. A modern classic.

Grape Varieties
70% Traditional Douro grape varieties and 30% Cabernet Sauvignon.
Tasting Notes
Appearance - Intense ruby color, clean and bright.
Aroma - Complex bouquet, engaging, with ripe fruit, notes of violet and humus, very fresh.
Taste - Elegant taste, with a fine balance between freshness and concentration, with silky tannins and a beautiful aromatic expression.
Additional Information
Available in 750 ml bottles.