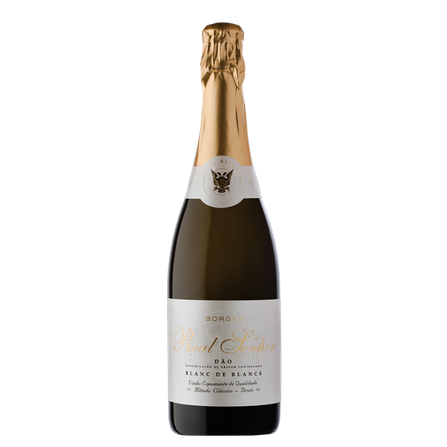 BORGES REAL SENHOR BLANC DE BLANCS 2018
Borges Real Senhor Blanc de Blancs is distinguished for its elegance and balance.
Region
Dão Demarcated Region.
Grape Varieties
Encruzado and Fernão-Pires.

Tasting Notes
Appearance - Clear, luminous and golden in color, with fine and elegant bubbles that rise in a regular and delicate way.
Aroma - On the nose it is complex and intense, with notes of fresh fruit, especially citrus, with aromas of flowers and white fruits, interspersed with soft notes toasted.
Taste - A voluminous and elegant sparkling wine in the mouth, with intense mousse and a very balanced acidity giving it a very long finish.


Additional Information
Available in a bottle of 750ml.
May contain sulfites.
By Sociedade dos Vinhos Borges