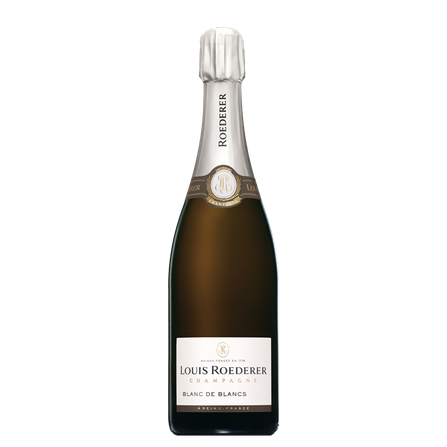 LOUIS ROEDERER BLANC DE BLANCS 2011
Since its foundation, the Louis Roederer House has had a keen interest in specific soil properties and quickly implemented separate vinifications. The Louis Roederer House selects, in the heart of the Côte des Blancs region, two exceptional Grands Crus: Le Mesnil Sur Oger and Avize. The conditions are thus met to produce a superior Chardonnay that is exquisite and subtle.
Região
Reims - France
Grape Varieties
100% Chardonnay - 18% of wine vinified in oak vats. Without malolactic fermentation.

Tasting Notes
Light and bright color with lemon yellow and greenish reflections. The thin, uniform bubbles form a "bubble trail" in small threads that look like glass. The nose is discreet and delicate, showing notes of fruit from the orchard, such as apple and pear. After aeration, apple aromas acquire more caramelized flavors of roasted apple, tarte tatin and roasted hazelnut. Chardonnay develops a limestone character with mineral notes of hot stones, delicate spices, crystallized lemon, citrus fruits, graphite and even tobacco. In the mouth, the attack is velvety with a soft and smooth texture that dominates the palate, coating it with a delicate and concentrated sensation. Then it reveals a spicy but mineral freshness. The wine continues to take shape on the palate, showing density at the beginning, followed by notes of chocolate, almost tannic and, finally, a freshness that prolongs the aftertaste. The undeniably saline palate is sustained by an endless vigor that makes your mouth water, refreshing the palate and inviting you to take another sip! This Blanc de Blancs 2011 is more earthy than fruity. It reveals an elegant palate with exceptional aromatic complexity and a delicate texture found only in the best limestone terroirs in Avize.
Additional Information
Available in 750 ml bottles.
By Louis Roederer