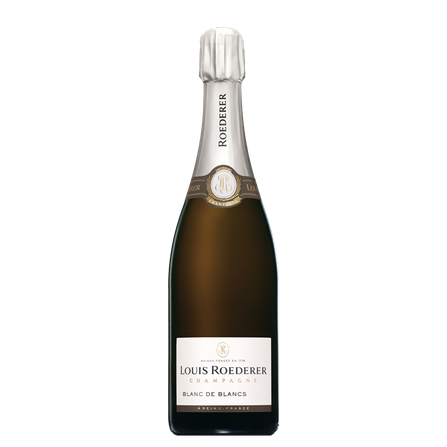 LOUIS ROEDERER BLANC DE BLANCS 2014
Since its foundation, the Louis Roederer House has had a keen interest in specific soil properties and quickly implemented separate vinifications. The Louis Roederer House selects, in the heart of the Côte des Blancs region, two exceptional Grands Crus: Le Mesnil Sur Oger and Avize. The conditions are thus met to produce a superior Chardonnay that is exquisite and subtle.
---
Região
Reims - França
Castas
100% Chardonnay - 23% do vinho vinificado em balseiros de madeira. Sem fermentação maloláctica

Notas de Prova
Tonalidade dourada brilhante com laivos de verde.
Bolhas lentas, suaves e estáveis.
Um bouquet muito puro, delicado e etéreo. Indícios delicados de flores (madressilva, jasmim) e de citrinos maduros e quase tostados (limão). Seguem-se aromas de brisa marítima iodada combinada com as notas doces de bolos acabados de fazer.
Após uma entrada fresca e energética na boca, o vinho é denso, delicadamente picante e revigorante. Um carácter predominantemente salino sobrepõe-se aos sabores de citrinos (laranja), amêndoa, trigo e baunilha de Madagáscar. As bolhas suaves que se vão dissolvendo libertam uma frescura de pedra calcária, revelando um final de boca que parece leve e poeirento elegantes taninos e especiarias tostadas.

Informação Adicional
Disponível em garrafa de 750 ml.
Pode conter sulfitos.
By Louis Roederer