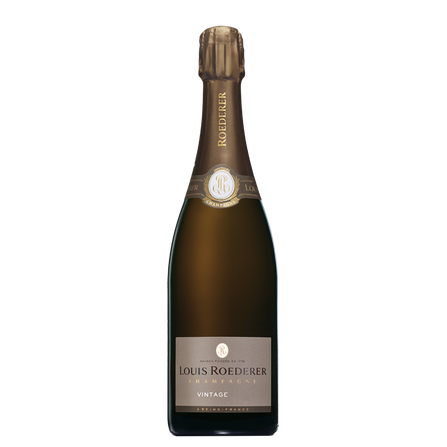 LOUIS ROEDERER BRUT MILLÉSIME 2009
Fascinated by the aromatic diversity of the Pinot Noir graft in the region of Champagne, Louis Roederer decided to prepare his Vintage Brut over the structure and power of Pinot Noir grapes in the region of Montagne de Reims, where the vineyards, facing in the north/northwest direction, ripen slower, originating in wines that are at times rough and closed at the start of ageing, but whose personality is refined and intensified during ageing in wood vats and over time. In 1850, Roederer decided to buy another 15 ha in the Grand Cru of Verzenay, in order to better control the preparation of wines from this harvest.
Region
Reims - França
Grape Varieties
70% Pinot Noir, 30% Chardonnay - of which 8% are wines made from wood (oak barrels). 16% Malolactic fermentation.

Tasting Notes
Golden yellow with a soft amber hue. Very lively and smooth effervescence, visible in all wine. The subtle bouquet, on the nose, opens gradually, revealing spring notes of fresh citrus (lemon and not lemon) combined with warm, almost smoked mineral aromas, followed by notes of slightly roasted almonds, one of the signs of aging in oak barrels . The wine is ample, energetic and initially gauzy like talc, slowly coating the palate. In the mouth it is smooth and rich, full-bodied and silky. The ending is long and persistent. The year 2012 presents the minerality of Pinot Noirs from the Verzy and Verzenay vineyards, in the far north. In 2012, the Casa's strong character was tempered with a lot of sun and softened with an exceptionally rigorous oak aging dose.

Additional Information
Available in 750 ml bottles.
By Louis Roederer