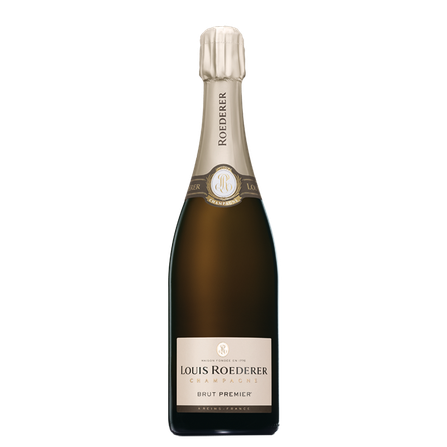 LOUIS ROEDERER BRUT PREMIER
The upheavals at the beginning of the 20th Century, particularly the 1st World War, which destroyed over half of Louis Roederer's operation, led León Olry Roederer to rebuild his vineyard. He decided to buy in grapes to ensure the continuity of the house during this crisis period. At the same time, he created a wine using different harvests, one that offers the same taste, irrespective of the year of harvesting.

This is currently the Brut Premier!
Region
Reims - França
Grape Varieties
40% Pinot Noir, 40% Chardonnay and 20% Meunier (5% of wines vinified in wood, in oak casks, with weekly bâtonnage and 20% of reserve wines matured in wood).

Tasting Notes
"From the very first instant, Brut Premier affirms its personality and seduction: ample and fleshy texture which very unexpectedly includes maturity and vinosity characteristics associated to the more fruity and refreshing notes. The freshness, fineness, and brightness of Brut Premier make it the perfect wine for festive occasions. Its structured texture, richness, and length are distinctly vinous. It is a full, complex wine that is both rich and powerful, whilst remaining a great classic " - Jean-Baptiste Lécaillon.

Additional Information
Available in 750 ml bottles (without box).
By Louis Roederer