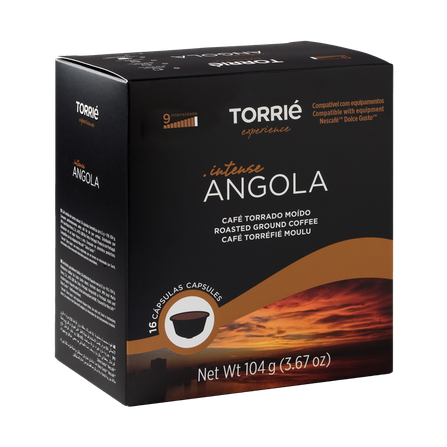 ANGOLA CAPSULE
The strength of Africa embodied in a coffee which echoes its Portuguese beginnings.

Torrié Angola embodies the strength and exoticism of Africa with a very mild, earthy aroma of the coffee plantations. Planted at low altitudes in the vast Angolan jungles where the soil is very fertile, these are balanced, high-quality coffees with low acidity. It was here that over many years the Portuguese learned the art of producing coffee.
---

Composition
Roasted ground coffee, with no added ingredients.
Tasting Notes
Appearance - Abundant and long-lasting hazel-colored foam.
Aroma - A woody fragrance with hints of cocoa, vanilla and caramel.
Taste - A full-bodied coffee, which is silky smooth and balanced. It is sweet and has low acidity.
Additional Information
- Capsule compatible with Nescafé® Dolce Gusto ®* equipment.
* Nescafé® Dolce Gusto ® is a brand registered by another firm
- Package | Sales Unit - Cardboard box containing 16 individual portions in a bag in metallized film PET/PE.