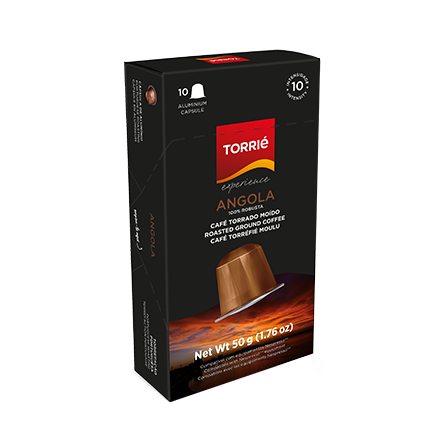 ANGOLA CAPSULE ALUMINUM - NESPRESSO®* COMPATIBLE
A distinctive style of roasting, based on the profile of the Portuguese roast, ensuring a unique and engaging experience for coffee lovers.

The 100% aluminum capsule option allows hermeticity (protection of coffee from oxidation) and heat resistance, essential for conservation, freshness of aromas and extraction with abundant and persistent cream.
Composition
Ground, roasted coffee, no other ingredient added. Lot obtained from 100% C. canefora coffees (Robusta), selected from the best regions of Angola.
Tasting Notes
Appearance - Abundant and persistent cream, chestnut in colour.
Aroma - Flavours of toast, wood and spices.
Taste - Intense, strong and full-bodied coffee.
Intensity (Scale from 0-10) - 10

Additional Information
- Capsule compatible with Nespresso®* equipment.
* Nespresso® is a brand registered by another firm
- Package: Cardboard box containing 10 individual portions.