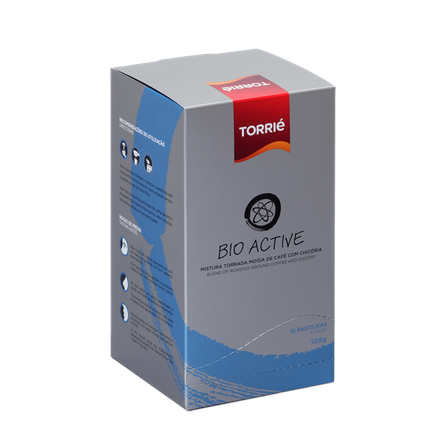 BIO ACTIVE POD
Research has revealed that chicory may have a prebiotic effect stimulating the growth and activity of a limited number of beneficial bacteria in the colon (bifidobacteria). Chicory may therefore have a range of benefits such as improved bifidobacterial flora and the reduction of pathogens, the increased absorption of minerals and trace elements such as calcium, magnesium, iron and zinc and increased immune defense, among others.
---
Composition
Blend of roasted ground coffee and chicory.
Ingredients: Coffee (90%) and chicory (10%).
Tastin Notes
Appearance - This Torrié Bio Active exhibits a consistent creamy foam, with a reddish brown color.
Aroma - The striking aromas of cinnamon, with notes of caramel and spices stand out in the nose.
Taste - In the mouth arise the characteristic bitterness involved in an intense flavor that lingers in the end.
Additional Information
- Package: Easy-open cardboard box containing 15 pods.