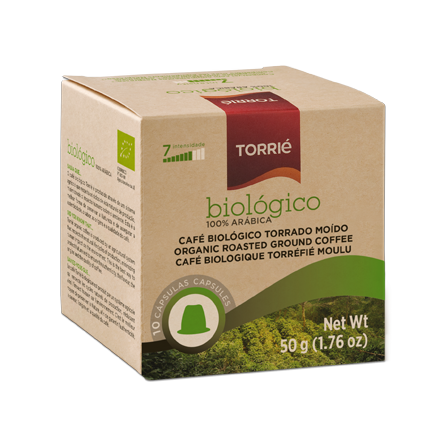 ORGANIC CAPSULE
Torrié organic coffee is produced by an agricultural system that respects the natural life cycles of production, minimizing human impact on the environment. This is the best way to protect Nature and to ensure the authenticity, the flavor, the origins and the quality of coffee.

The Torrié Biológico is certified by Codimaco.

Composition
Roasted ground coffee, with no added ingredients, made from C. arabica beans.
Tasting Notes
Appearance - Light brown and persistent foam.
Aroma - Aromas of caramel and dark chocolate, with floral notes.
Taste - Elegant coffee with medium body and high acidity. Complex and lingering finish.
Additional Information
- Capsule compatible with Nespresso®* equipment.
* Nespresso® is a brand registered by another firm
- Package: Cardboard box containing 10 individual portions.