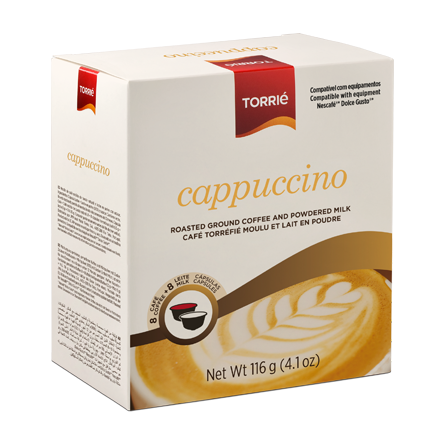 CAPPUCCINO CAPSULE
Coffee: Traditionally well-known for its ability to stimulate memory and raise levels of alertness,
as well as mitigate the effects of tiredness.
Milk: Dried milk, obtained by spray-drying with hot air, followed by agglomeration.
---

Composition
Blend of roasted ground coffee and powdered milk with sugar.
Tasting Notes
Appearance - Abundant and persistent foam.
Aroma - Pleasant aroma with notes of caramel and cocoa.
Taste - High volume and velvety in the mouth. A pleasant and persistent finish in the mouth.
Additional Information
- Capsule compatible with Nescafé® Dolce Gusto ®* equipment.
* Nescafé® Dolce Gusto ® is a brand registered by another firm
- Package | Sales Unit - Cardboard box containing 8 individual portions of espresso coffee and 8 individual portions of milk in bags of transparent film PE (Polyethylene).