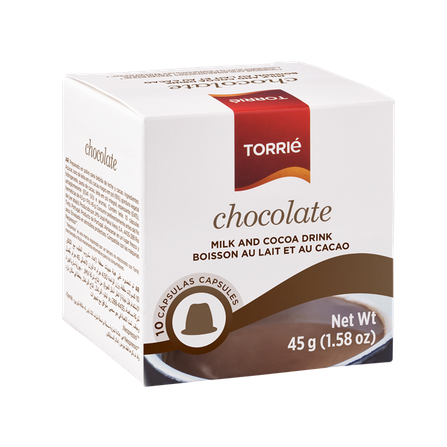 CHOCOLATE CAPSULE
Savour a creamy and aromatic hot chocolate. Stir with a cinnamon stick for an exotic touch.
---

Composition
Sugar, whey powder, skimmed powdered cocoa (16%), hydrogenated vegetable fat, cocoa paste, whole milk powder, thickener (E415), anti caking agent (E341 (iii)) and aromas.
Tasting Notes
Appearance - Chocolate brown.
Aroma - Cocoa and chocolate aroma.
Taste - Sweet taste. Full-bodied and velvety. Persistent finish.
Additional Information
- Capsule compatible with Nespresso®* equipment.
* Nespresso® is a brand registered by another firm
- Package | Sales Unit - Cardboard box containing 10 capsules 4,5 g (45 g).