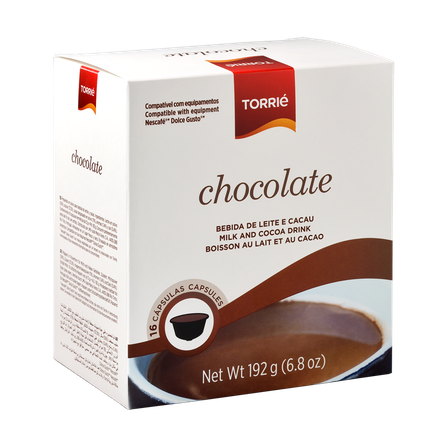 CHOCOLATE CAPSULE
This chocolate includes cocoa of splendid origin, originating thus a high density drink, based on a recipe filled with tradition and full-flavored.
---

Composition
Milk and cocoa drink in powder form.
Tasting Notes
Appearance - Characteristic color of chocolate.
Aroma - Cocoa and white chocolate aroma.
Taste - Pleasant. Full-bodied, round and velvety. Soft and persistent.
Additional Information
- Capsule compatible with Nescafé® Dolce Gusto ®* equipment.
* Nescafé® Dolce Gusto ® is a brand registered by another firm
- Package | Sales Unit - Cardboard box containing 16 individual portions in a bag in metallized film PET/PE.