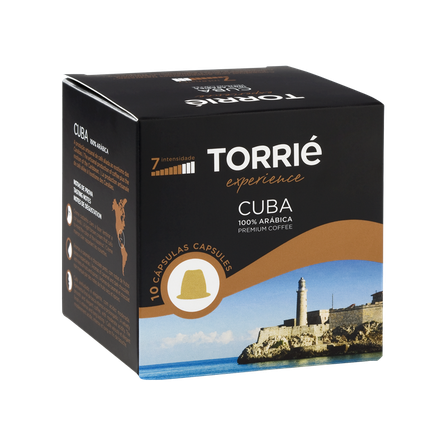 CUBA CAPSULE
The artisanal production of coffee plus the exotism of the Caribbean.

The Arabica coffee of Cuba is selectively picked by hand. The coffee beans are dried using the energy of the Caribbean sun. The result is a coffee that combines the tradition of an artisanal production method with the richness and boldness of the purest Arabicas of Cuba and the exotism of the Caribbean.
---

Composition
Roasted ground coffee, with no added ingredients.
Tasting Notes
Appearance - A light brown cream that calls to mind the color of the hazelnut.
Aroma - Aroma of caramel and dark chocolate, with hints of nuts and spices.
Taste - A velvety smooth and elegant coffee, with moderate acidity. The finish is intense and long lasting.
Additional Information
- Capsule compatible with Nespresso®* equipment.
* Nespresso® is a brand registered by another firm
- Package: Cardboard box containing 10 individual portions.