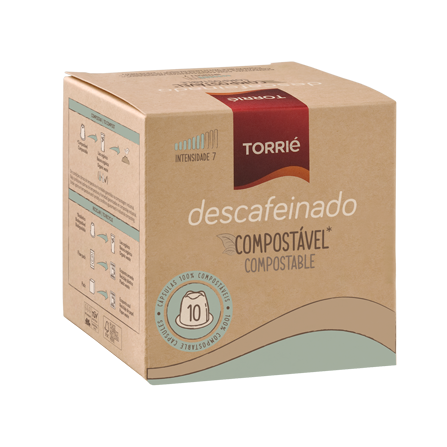 DECAF COMPOSTABLE CAPSULE
Environmental and social challenges make a proactive attitude towards Sustainability essential.
At Torrié we expand horizons, innovating in the creation of high quality products, respecting the environment and in line with the demands of consumers.
---
Composition
Roasted ground decaffeinated coffee, with no added ingredients. A carefully blended mix of C. Arabica e C. Canephora (sub. robusta) coffees, selected at their origin.
Tasting Notes
Appearance - Rich persistent creamy foam, with hazelnut colour.
Aroma - Aromas of caramel, cocoa and dried fruits.
Taste - Elegant acidity. It is intense, with medium body and has a persistent finish.
Additional Information
- Capsule compatible with Nespresso®* equipment.
* Nespresso® is a brand registered by another firm
- Package: Cardboard box containing 10 individual portions.