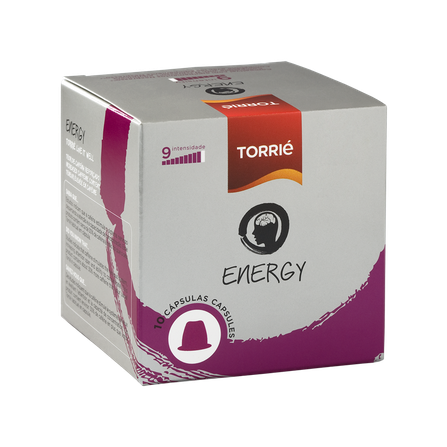 ENERGY CAPSULE - NESPRESSO COMPATIBLE
Increased caffeine content.
Studies indicate that caffeine stimulates the nervous system, increasing attention span and ability to concentrate. This product contains about 30% more caffeine than your usual Torrié in capsule.
---

Composition
Roasted ground coffee, with no added ingredients. A carefully blended mix of C. arabica e C. canephora (sub. robusta) coffees, selected at their origin.
Tasting Notes
Appearance - This Torrié Energy shows rich persistent creamy foam, with hazelnut color.
Aroma - The aromas of cocoa and vanilla prevail in the nose.
Taste - In the mouth this coffee emerges smooth and gently bitter. Round and full bodied, it is a coffee full of balance.
Additional Information
- Capsule compatible with Nespresso®* equipment.
* Nespresso® is a brand registered by another firm
- Package | Sales Unit - Cardboard box containing 10 individual portions.