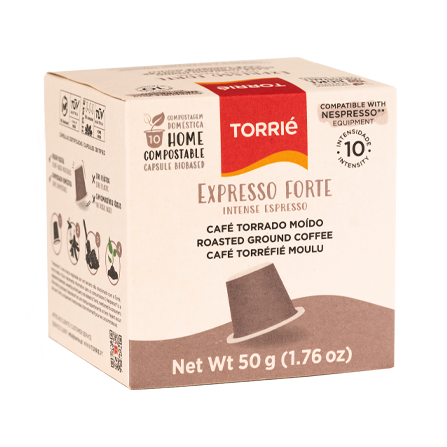 INTENSE ESPRESSO CAPSULE HOME COMPOSTABLE - NESPRESSO®* COMPATIBLE
Innovative Torrié Home Compostable capsules reflect commitment to environmental sustainability and are a conscious choice for lovers of Portuguese roasting coffee.

Produced exclusively using 100% organic plant materials such as vegetable oils, cellulose and coffee, they are therefore formulated only based on plants and so are free of fossil fuel derivatives. Accordingly, they are easily, naturally and biologically broken down, through home composting.

Once used, Torrié Home Compostable capsules may be placed in a plant pot, garden, home composter or simply placed in an organic waste bin, where they will decompose naturally, no special facility required. This natural decomposition process contributes towards the production of nutrients, themselves natural, enriching the soil and boosting its quality, also significantly reducing waste.

Thus, they are capsules which contribute towards a healthier, more sustainable environment, certified by TÜV Austria, an internationally-recognised certifying body, officially as BIOBASED and HOME COMPOSTABLE capsules.
Composition
Ground, roasted coffee, no other ingredient added. Lot obtained from dosed combinations of C. arabica and C. canefora coffees (Robusta), selected at source.
Tasting Notes
Appearance - Abundant and persistent cream, dark chestnut in colour.
Aroma - Flavours of chocolate, caramel and spices.
Taste - Full-bodied, intense, rounded coffee with a prolonged aftertaste.
Intensity (Scale from 0-10) - 10

Additional Information
- Capsule compatible with Nespresso®* equipment.
* Nespresso® is a brand registered by another firm
- Package: Cardboard box containing 10 individual portions.