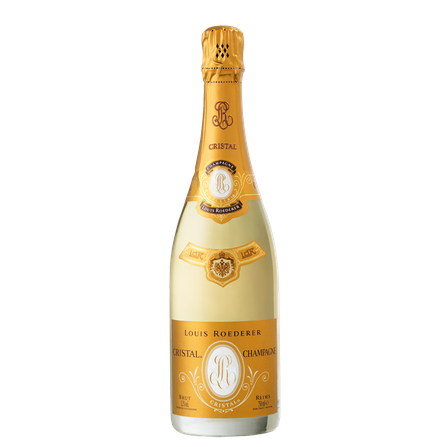 LOUIS ROEDERER CRISTAL BRUT 2009
In 1876 the Tsar Alexandre II, already a great admirer of the Cuvées of Louis Roederer, asked Louis Roederer "to go even further" and to make, for his personal use, a champagne unique for its bottle and quality. Louis Roederer proposed to create an exceptional white crystal bottle for which he selected the best vineyards of 7 Grand Crus at his wine-growing property. This Cuvée, produced only in "exceptional" years, when the maturity of the Chardonnay and Pinot Noir grapes, made it possible to achieve a subtle and precise balance, was the first prestigious Cuvée in the Champagne region.

Grape Varities
Pinot Noir (60%) and Chardonnay (40%).

Tasting Notes
A yellow-gold colour with mat and amber tints. Persistent, brilliant, fine and lively bubbles. A subtle bouquet, simultaneously discreet and concentrated. It releases notes of citrus compote and candied apricots and evokes the sweetness of honeysuckle. When aerated, notes of vanilla-edged cocoa bean emerge, with toasted hazelnut, hints of liquorice and even a touch of cinnamon. The palate is structured, energetic and sculpted. An initial dense, ripe and silky sensation is amplified by the discovery of a chalky, cherry freshness, a powdered, almost mentholated brightness. The feeling is delicate and ethereal, a succession of delicious and colourful textures perfectly integrated within the lightness and finesse of the wine... an invitation on a journey of discovery. The bright personality of Cristal then appears, simultaneously pure and sharp, in a finish focused once again on chalk, energy and grain. In this Cristal 2009 there is a genuine force of life, an invitation to pleasure, and at the same time great depth and crystalline purity.

Additional Information
Available in 750 ml bottles.