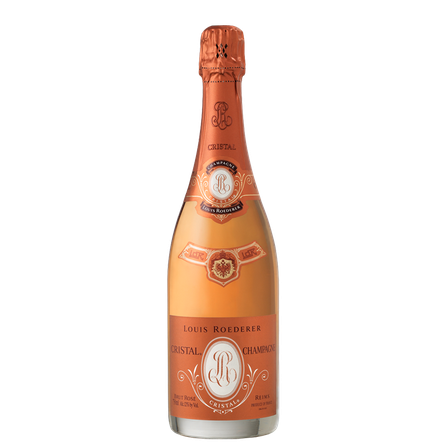 LOUIS ROEDERER CRISTAL BRUT ROSÉ 2009
In 1974, nearly 200 years after the foundation of the Louis Roederer House and 100 years after the creation of Cristal, Jean-Claude Rouzaud decided to create the Cristal Rosé cuvée. To achieve this, he selected individual old vineyards of Pinot Noir located in the best land plots of the Grand Crud'Aÿ. Located on limestone and argilla-based soil, these vineyards are known for extraordinary fruit maturation in the best years, associated to a crystalline and pure acidity perfectly corresponding to the Cristal style. Today, these vineyards are cultivated according to biodynamic techniques.

Grape Varieties
55% Pinot Noir e 45% Chardonnay.

Tasting Notes
Bright pink in colour with copper overtones. The persistent bubbling produces a delicate effervescence. The bouquet is both elegant and deep, with dark berries (blackcurrant) and forest fruits (wild blackberry and strawberry). It also offers a touch of ripe Morello cherry and there is a distinct chime of spicy jelly. The immediate effect on the palate is the velvety, silky charm characteristic of Pinot noir de Ay, simultaneously aroma-intense and firmly structured, whilst still delicate, subtle and ethereal.

Additional Information
Available in 750 ml bottles.