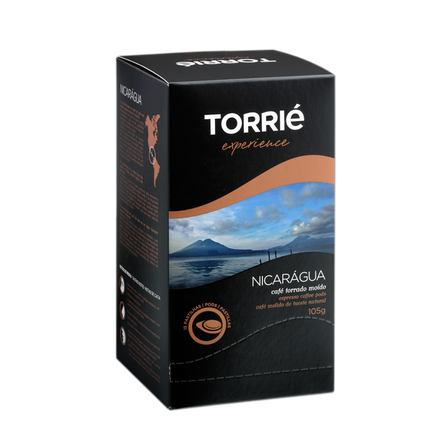 NICARÁGUA POD
The eccentricity of a co­ffee from the country of lakes, tropical forests and volcanoes.

Nicaragua is a country of lakes, volcanoes and mountains, whose strategic geographical position made it an important route for migrants and pirates. Cultivated near cocoa, banana and other trees, the coffee bushes have optimum light conditions for their growth. Nicaraguan coffee is produced at high altitudes (above 1,500 meters) and has lower caffeine content than other coffees.

Composition
Roasted ground coffee, with no added ingredients.
Tasting Notes
Appearance - Light brown foam.
Aroma - Exotic aromas with hints of chocolate, caramel and spices.
Taste - Strong, with high acidity, lending it certain liveliness. Medium-bodied with a lingering finish.
Additional Information
- Package: Easy-open cardboard box containing 15 pods.