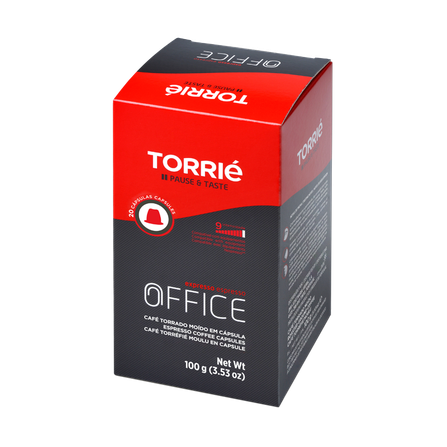 OFFICE CAPSULE
Full-bodied, strong and balanced.

Composition
Roasted ground coffee, with no added ingredients.
Tasting Notes
Appearance - Rich persistent creamy foam, with hazelnut color and reddish notes.
Aroma - Aromas of caramel, cinnamon and chocolate.
Taste - Sweet coffee with very slight acidity and low bitterness. A full-bodied coffee with silky mouthfell. Lingering and persistent finish.
Additional Information
- Capsule compatible with Nespresso®* equipment.
* Nespresso® is a brand registered by another firm
- Package: Cardboard box containing 20 individual portions.
- Kit 100: Corrugated cardboard box containing 100 coffee capsules, 100 sugar sachets, 100 cups and 100 stirrers.