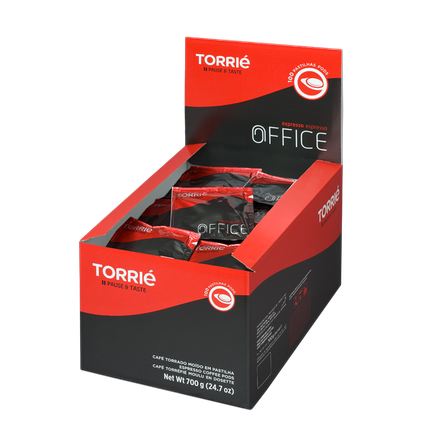 OFFICE POD
Full-bodied, strong and balanced.

Composition
Roasted ground coffee in pod form, with no added ingredients. A carefully blended mix of C. Arabica e C. Canephora (sub. robusta) coffees, selected at their origin.
Tasting Notes
Appearance - Very abundant, very thick and persistent cream.
Aroma - Toast and dried fruit aromas.
Taste - Strong but balanced coffee, full-bodied. It has some astringency and characteristic bitterness.
Additional Information
Package: Easy-open micro-corrugated box containing 100 individual portions.
Kit 100: Corrugated cardboard box containing 100 coffee pods, 100 sugar sachets, 100 cups and 100 stirrers.
Kit 300: Corrugated cardboard box containing 3 sales units, 2.7 kg of sugar, 300 cups and 300 stirrers.