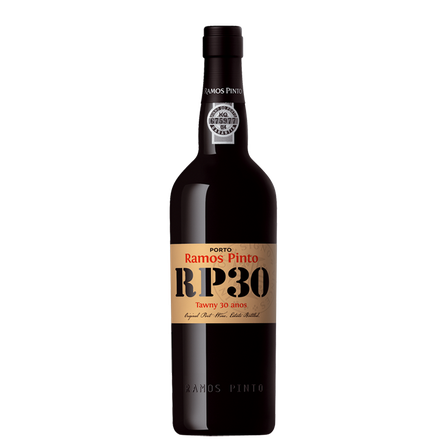 RAMOS PINTO 30 YEARS
Barrel-aged at Ramos Pinto cellars, this wine is the result of the harmony between several wine varieties.
The flavors and aromas are volatile, sterified, woody and powerful.
---

Grape Varieties
A mixture of grape varieties from old vines.
Tasting Notes
Appearance - A magnificent tawny color with orange tones. The bottom of the glass is bright, with traces of tawny-red that develop into a greenish halo characteristic of old cask-aged wines.
Aroma - It has an admirably elegant aroma. At first, it is warm and charming. Aromas of vanilla and dry fruit and nuts immediately appear as the result of its ageing process. Upon agitation of the glass, spicy aromas such as cinnamon and cocoa become prominent.
Taste - Satiny and long-lasting in the mouth. A taste of nuts such as almond and hazelnut is followed by a surprising and pleasant freshness produced by ethereal flavors, culminating with a taste of liquorice.
Additional Information
Available in 750 ml bottles.