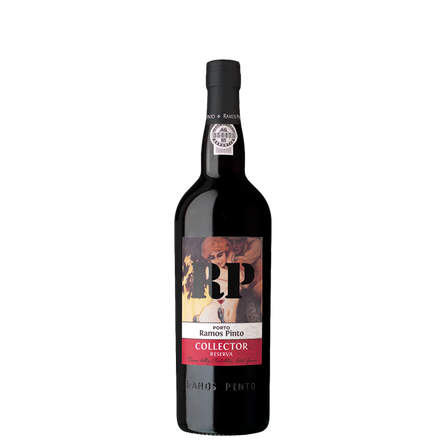 RAMOS PINTO COLLECTOR RESERVE PORTO RUBY
A five-year-old bouquet created from several young blends.
---

Grape Varieties
Mixture of grape varieties from traditional old vines from Portugal.
Tasting Notes
Appearance - The pale-red rim around the glass is the only visible sign of maturity. The initially opaque core develops into a translucent dark red and finishes with an intense red at the bottom of the glass.
Aroma - Its aromatic characteristics are similar to that of the vintage due to the potency of its dominant and dense fruit, revealing incredibly ripe aromas of dried plum, fig, blackberry, raspberry and cherry.
Taste - The attack is smooth and a full, balanced sensation of sweetness can be noted on the palate. Its ripe fruit is deliciously revealed to us, enhancing the most volatile and developed retro nasal aromas. Its persistence is noteworthy.
Additional Information
Available in a bottle of 750ml.