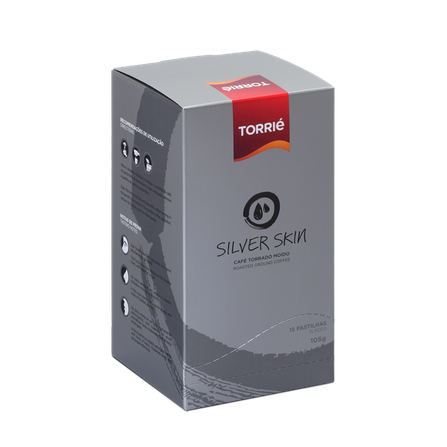 SILVER SKIN POD
Natural source of antioxidants.

Antioxidants minimize damage to cells by free radicals, a cause of cell deterioration. Studies show that antioxidants may promote anti-aging, may help to prevent degenerative diseases and improve health generally. "Silver Skin", which has a strong antioxidant effect, is a natural component of coffee. Through an innovative process of production it is preserved in this Torrié Silver Skin. This product contains about 30% more polyphenols (antioxidants) than your usual Torrié.


Composition
Roasted ground coffee.
Tasting Notes
Appearance - This Torrié silver skin displays a rich creamy foam, with hazelnut color.
Aroma - In the nose stands out a wood aroma and notes of toasted peanuts.
Taste - In the mouth it is a slightly astringent coffee, with hints of herbs. Moderate body and prolonged aftertaste.
Additional Information
- Package: Easy-open cardboard box containing 15 pods.