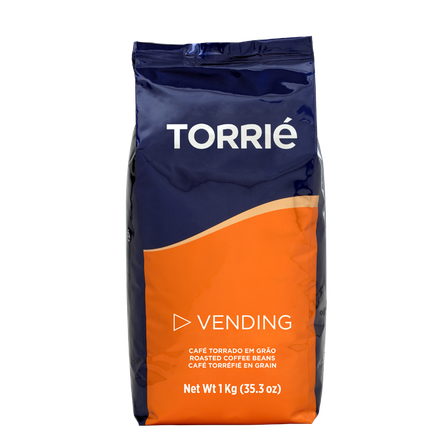 VENDING ROASTED COFFEE BEANS
A strong but balanced coffee.

Composition
Roasted coffee beans, with no added ingredients. A carefully blended mix of arabica and robusta coffees, selected at their origin. The best robusta coffees that predominate in this blend are counterbalanced by mid-altitude arabica coffees, in a roasting profile designed specifically to produce a coffee that is perfect for the machines in which it will be used, in terms of extraction, grinding behaviour and portioning.
Tasting Notes
Appearance - Thick, abundant and persistent cream.
Aroma - Aromas of toasted bread and dried fruits.
Taste - A strong but balanced coffee with a fairly full body. It is characteristically slightly astringent and bitter.
Informação Adicional
Available in 1 kg packs.