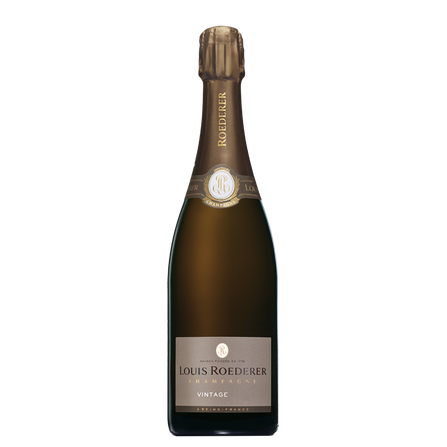 LOUIS ROEDERER BRUT MILLÉSIME 2015
Fascinated by the aromatic diversity of the Pinot Noir graft in the region of Champagne, Louis Roederer decided to prepare his Vintage Brut over the structure and power of Pinot Noir grapes in the region of Montagne de Reims, where the vineyards, facing in the north/northwest direction, ripen slower, originating in wines that are at times rough and closed at the start of ageing, but whose personality is refined and intensified during ageing in wood vats and over time. In 1850, Roederer decided to buy another 15 ha in the Grand Cru of Verzenay, in order to better control the preparation of wines from this harvest.
Region
Verzy, Chouilly.
Grapes Varieties
70% Pinot Noir, 30% Chardonnay - 34% of the wine vinified in oak vats. 24% malolactic fermentation.
Tasting Notes
Appearance - Deep yellow hue with golden and slightly amber tints.
Aroma - The fruity aromas gradually give way to sweeter notes of chocolate (cocoa beans) and even delicate toasted notes. The finish reveals a concentration of roasted and jammy fruits, supported by saline flavors that make the mouth water and leave a magnificent final sensation of lightness, generosity and elegance.
Taste - In the mouth it is dynamic, concentrated and powerful. The texture is fleshy and vinous, with a lovely acidity that easily integrates the freshness and concentration of the juice. The structure is energetic, well-tuned, firm and almost classic.
Additional Information
Available in 750 ml bottle.
May contain sulphites.
By Louis Roederer