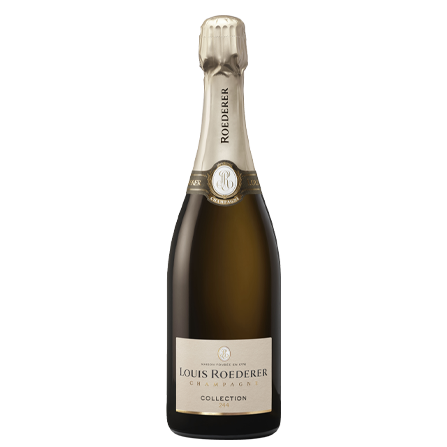 LOUIS ROEDERER COLLECTION 244
Grapes grown on Louis roederer's estates are complemented by grapes from our partner growers' plots selected from the "Heart of the terroir".
Region
Reims - França

Grapes Varieties
41% Chardonnay, 33% Pinot Noir e 26% Pinot Meunier. 35% malolactic fermentation.
Tasting Notes
Appearance - Beautiful golden yellow color, typical of Champagne. Dense and regular effervescence with ultra-fine bubbles.
Aroma - Broad, deep bouquet of ripe fruit (vine peach and william pear) combined with citrus fruits (lemon and blood orange). Iodized, smoky notes, linked to autolysis and wood ageing, add aromatic freshness. This is followed by notes of limestone, slightly reduced and giving a glimpse of a concentrated and powerful wine.
Taste - In the mouth it has a delicious attack and a powerful and tasty texture. Very juicy and concentrated sensation, as if you were biting a ripe fruit. The material is sweet and caressing, enveloping the palate, but this is immediately softened thanks to the delicate effervescence. The lingering is due to a lovely line of chalky freshness. Simultaneously gluttonous, slightly toasty, and fresh, thanks to a salivating finish. Smoky notes finally arrive to support a savory finish.
Additional Information
Available in 750 ml bottle.
May contain sulphites.
By Louis Roederer