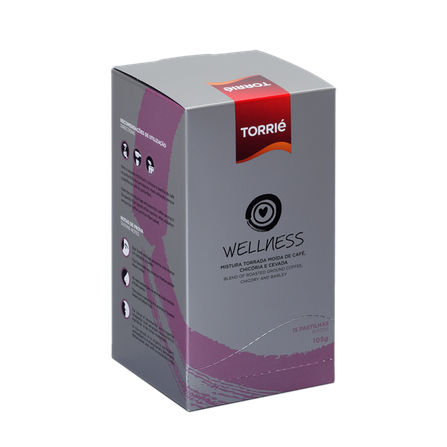 WELLNESS POD
Studies indicate that chicory may have prebiotic properties and may help to regulate hepatic function, and that barley may have positive effects in regulating intestinal function. According to these studies, barley and chicory may promote the regulation of the digestive system, aiding digestion, combating excess cholesterol and diabetes, and diseases of the colon, contributing to general well-being.


Composition
Blend of roasted ground coffee, chicory and barley.
Ingredients: Coffee (80%), chicory (10%) and barley (10%).
Tasting Notes
Appearance - This Torrié Wellness shows an intense golden brown color.
Aroma - The nose is marked by the aromas of toasted bread and dried fruits.
Taste - In the mouth it is slightly astringent, embedded in a characteristic bitterness. Bittersweet and with a moderate body.
Additional Information
- Package: Easy-open cardboard box containing 15 pods.